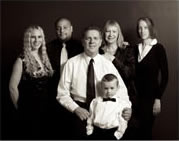 The Leighton Galleries Family
OUR MISSION
TO SERVE as auctioneer for fiduciaries, executors and individual consignors in valuating, marketing and selling personal property. Our goal is to obtain maximum exposure and value for items sold. We strive to be recognized as New Jersey's leading auction house, a company of exemplary standards for competence, connoisseurship and business practice.

TO EDUCATE in Buyer Awareness concerning art, antiques, auction houses and appraisal matters. As advocates for the industry, we are committed to sharing our expertise to help others in recognizing good art and authentic antiques, as well as avoiding unsavory business practices.

TO GIVE BACK through our local, regional and global partnerships with faith-based charities. As a successful company with God as our business partner, we are committed to those in need, particularly children. The charities we support contribute to nutrition, shelter, healthcare and spiritual guidance.
And through this mission, our family business flourishes. We have valued service, worthy causes, and a good living.